Portable Sawmill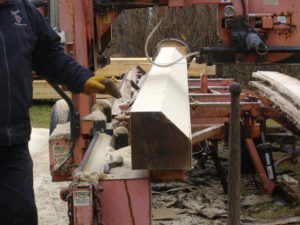 With the Wood-Mizer sawmill, logs up to 36 inches in diameter and 21 feet in length can be cut.  Anything over 16 feet long or a 6"x6" heavy timber is considered "Special Order".   There is hemlock and pine lumber at the Wolfgang Developments site as well as some hardwood, which has not been stamped or graded.  I work with many soft woods and hardwoods suitable for any indoor or outdoor wood projects specializing in custom sawing.
A Resaw service is also provided  to create siding, resize new or reclaimed lumber and create boxwood (thin wood) for assorted projects.
The result of milling is an excess of slab wood and saw dust, therefore there is softwood slab wood in 8 foot lengths that will fit in the back of a pick-up truck or utility trailer.   Sawdust availability depending on quantity on hand.
Please contact Mike at (902) 497-6535 for a free estimate.